On This Page:
Research Summary
Articles from the Project CBD Archives
Project CBD Survey Results
Research on CBD for Cancer (General)
Research on Cannabinoids for Cancer (by Cancer Type)
Research on Cannabis, Cancer & the Endocannabinoid System
Cannabis for Side Effects from Chemotherapy & Radiation
Research Surveys of Cancer Patients
Research Summary:
In general, CBD and other phytocannabinoids in cancer cells have been found to cause:
Cytotoxicity (killing the cancer cells)
Anti-proliferation (slowing their growth)
Anti-migration (slowing their movement)
Slowed angiogenesis (formation of new blood vessels)
Apoptosis (cellular suicide) and autophagy (cellular degradation & recycling)
Suppression of cancer stem cells and metastasis (formation of secondary growth at a distance from the primary cancer site)
Lessened chemoresistance (the cancer's resistance to chemical treatment)
Reduction of glycosylation (modification of newly made proteins)
Novel functions such as "bubbling cell death"
The majority of work has been done with medical cannabis rich in THC but more recent research highlights CBD for cancer as well as CBD helping conventional cancer treatments to work better. THC and CBD often work together well, some of their functions being mediated by effects on a cancer cell's mitochondria (powerhouse of the cell). Research has also showed the anticancer effects of some of the terpenes that would be present in a full-plant extract. Cannabinoids can help with cancer progression via the microbiome. Some epidemiological data shows the use of cannabis increasing the risk of certain types of cancer while others show a decreased cancer risk from cannabis use.
For the standard cancer treatments, cannabis helps with pain, appetite, quality of life, cognitive functioning, and palliative end-of-life care. The use of cannabinoids can help lower the use of opioid painkillers. For chemotherapy treatment, the cannabinoids can also protect the brain cells from the neurotoxicity treatments, PEA, an endocannabinoid-like compound, can help protect the heart cells and CBD lessens the ulcers of radiation therapy. Cannabinoids may also enhance other treatments like photodynamics or ozone therapy. But they can interfere with the effects of some cancer drugs while overcoming resistance to cancer drugs in other tumors. In some cases, the uses of CBD alone can have striking results in tumor reduction.
---

From the Project CBD Archives:
Excerpted from "Healing with Cannabis: The Evolution of the Endocannabinoid System and How Cannabinoids Help Relieve PTSD, Pain, MS, Anxiety, and More" by Cheryl Pellerin.
---

From the Project CBD Patient Survey:
See the full survey here.
214 survey respondents reported taking CBD for cancer
51% Female | 49% Male
Participants reported having 32 different types of cancer. Breast, prostate, and colon/rectal cancer were the most common. The majority of participants in this group had had either surgery, chemotherapy, or radiation therapy. Many were in remission / cancer-free. Many were also using CBD for pain (44%), sleep problems (30%), and/or mood issues (25%).
Participants using CBD products for cancer were more likely to be using CBD with or from cannabis rather than hemp-derived CBD alone (57% versus 40%), meaning they were more likely to be taking some THC with their CBD regimen. This may be due to THC's effectiveness as a pain reliever or to well-publicized preclinical data suggesting that both THC and CBD may have tumor-fighting properties.
Cancer Types: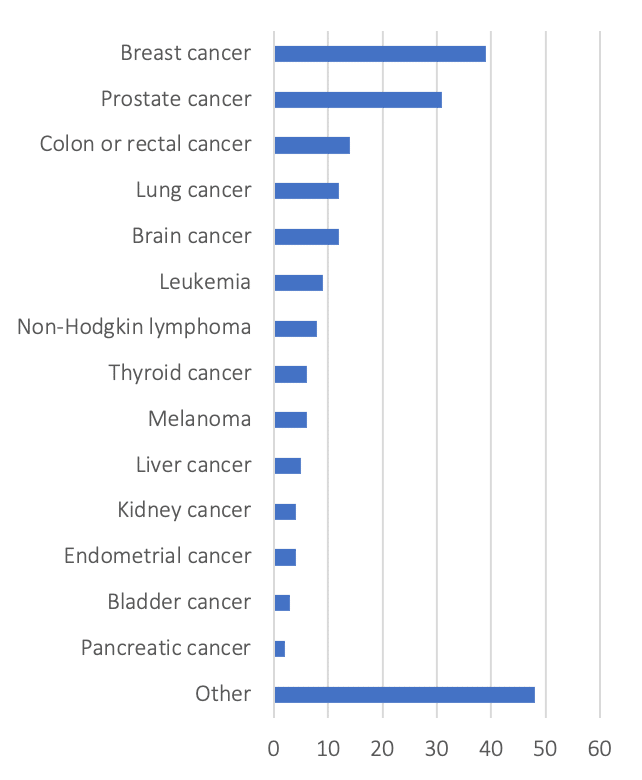 Treatments: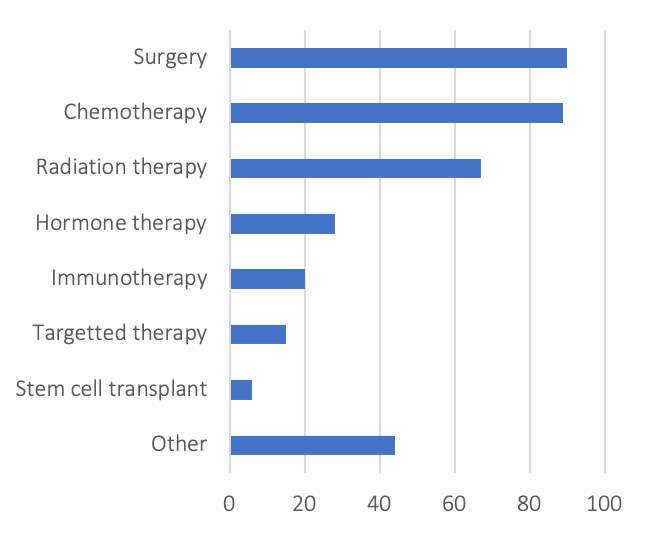 Cancer Status:
Participants were asked to rate how CBD impacted eight common symptoms of cancer and cancer treatment (see chart below), indicating whether the symptom was a "much better," "little better," "no change," a "little worse," or "lot worse." CBD was most helpful with ameliorating nausea and vomiting. Some participants also found it helpful for loss of appetite, neuropathy (numbness or tingling), and weakness. CBD was markedly less likely to help with cancer-related constipation and diarrhea. The most significant side effects related to memory and concentration.
Changes in Symptoms: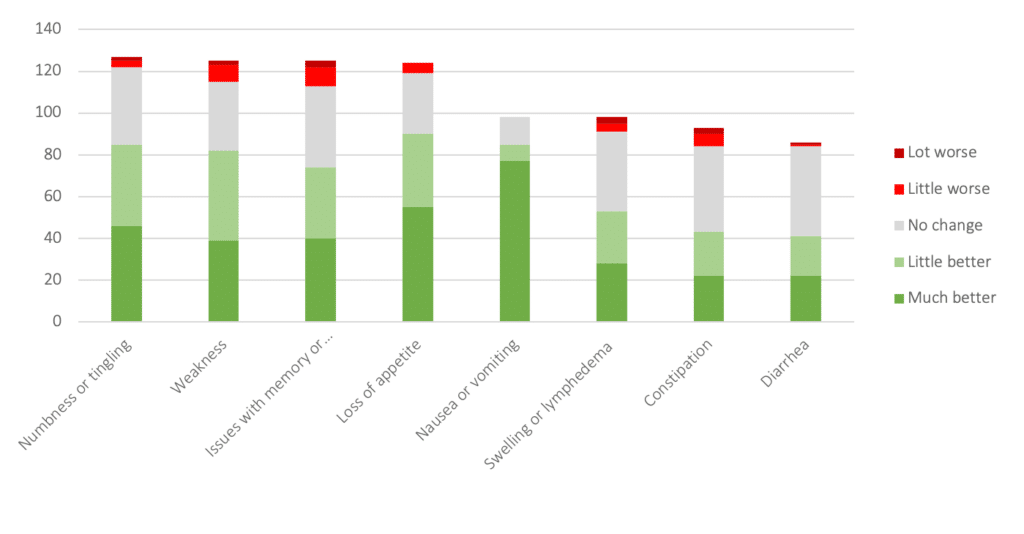 ---

Research on CBD for Cancer (General):
2022: A systematic review of the effect of CBD on cancer cells
Biological Effects of Cannabidiol on Human Cancer Cells: Systematic Review of the Literature
"CBD inhibited cell viability and proliferation in most cellular districts except the integumentary apparatus. Also a significant inhibition of migration was observed in all cell types, while an increase in apoptosis at both high and low doses (greater and less than 10μM respectively). Considering inflammation, CBD caused an anti-inflammatory effect on nervous cells at low doses and on gastro-intestinal cells at high doses, while metastatic power was reduced even at low doses, but in a skeletal cell line there was an increased angiogenesis. CB1 receptor has been related to viability effects, CB2 to apoptosis and TRPV1 to inflammation and invasiveness."
2022: A review of CBD in cancer treatment: not just for symptom control, but for anticancer action itself
Mechanisms of Cannabidiol (CBD) in Cancer Treatment: A Review
2022: A review of using CBD for cancer patients
Cannabidiol on the Path from the Lab to the Cancer Patient: Opportunities and Challenges
2022: A review of CBD for cancer treatment
Cannabidiol and Other Phytocannabinoids as Cancer Therapeutics
2022: A review of CBD in cancer management
Cannabidiol (CBD) in Cancer Management
2022: With disulfiram (an anti-alcohol drug now being looked at to treat cancer), CBD may interfere with its efficacy against cancer
Cannabidiol-induced activation of the metallothionein pathway impedes anticancer effects of disulfiram and its metabolite CuET
2022: In cancer, using cyclodextrins as delivery vehicles to improve the targeting of CBD to kill the cells
Biophysical Studies and In Vitro Effects of Tumor Cell Lines of Cannabidiol and Its Cyclodextrin Inclusion Complexes
2021: This review looks at using HU-331 (a stable analog of CBD) for treating cancer
Cannabidiol oxidation product HU-331 is a potential anticancer cannabinoid-quinone: a narrative review
2021: A review of using CBD to fight tumors
Repurposing Cannabidiol as a Potential Drug Candidate for Anti-Tumor Therapies
2021: This review looks at the "widespread therapeutic potential" of CBD to enhance chemotherapy treatments for cancer
Can Cannabidiol Affect the Efficacy of Chemotherapy and Epigenetic Treatments in Cancer?
2021: A battery of tests on CBD & CBDV find that they both increase toxicity in cancer cells & that CBD showed antimicrobial activities against a Staph bacteria
Comparative assessment of antimicrobial, antiradical and cytotoxic activities of cannabidiol and its propyl analogue cannabidivarin
2021: Natural CBD no different from synthetic CBD on cancer lines
The Pharmacological Effects of Plant-Derived versus Synthetic Cannabidiol in Human Cell Lines
2021: In various cell types, CBD acted as an antioxidant in healthy cells & as a killer in cancer cells
New Insights on Hemp Oil Enriched in Cannabidiol: Decarboxylation, Antioxidant Properties and In Vitro Anticancer Effect
2020: A very positive review of the mechanisms suggesting CBD for working with chemotherapy for cancer treatment
The pharmacological basis for application of cannabidiol in cancer chemotherapy
2020: A review of CBD as an anticancer drug
Cannabidiol (CBD) as a Promising Anti-Cancer Drug
2020: Strong review of CBD for cancer treatment
[Cannabidiol in cancer treatment] (in German)
2020: In 6 cancer cell lines, the researchers did not see an 'entourage effect' difference between isolated CBD & CBD-rich hemp extracts in their ability to reduce the cell's viability
Cannabidiol (CBD) Oil Does Not Display an Entourage Effect in Reducing Cancer Cell Viability in vitro
2020: CBD acts synergistically with the chemotherapeutic agents paclitaxel and doxorubicin
CBD loaded microparticles as a potential formulation to improve paclitaxel and doxorubicin-based chemotherapy in breast cancer
2020: in humans, this small clinical trial suggests a combination of CBD & oxytocin for patients with untreatable, advanced cancers
A Preliminary Study on the Anticancer Properties of Oxytocin: A Neuroendocrine Regimen with Oxytocin, Antitumor Pineal Indoles, and Cannabidiol in Untreatable Advanced Cancer Patients Progressing on Pineal Indoles and Cannabidiol Alone
2020: In immune cells, CBD decreased the viability of cancer cells and protected the killer cells
High Expression of Cannabinoid Receptor 2 on Cytokine-Induced Killer Cells and Multiple Myeloma Cells
2020: In cancer cells, the presence of CBD decreased their proliferation, indicating a safety for combining with chemotherapy
Cannabidiol: Assessing preclinical safety in ovarian and endometrial carcinoma cell lines.
2020: In cancer cells, CBD positively changed the expression of genes relating to cancer – suggested as a "promising nontoxic therapeutic for treating tumors of various origins"
Cannabidiol Treatment Results in a Common Gene Expression Response Across Aggressive Cancer Cells from Various Origins
2019: In mice, CBD helped with the oral lesions induced by chemotherapy
Cannabidiol in oral mucositis induced in mice subjected to 5-fluorouracil: clinical and histologic evaluation
2019: In cancer tissue, CBD reduces development of resistance to a chemotherapeutic agent
Cannabidiol Overcomes Oxaliplatin Resistance by Enhancing NOS3- and SOD2-Induced Autophagy in Human Colorectal Cancer Cells
2019: Resistance to the cancer drug oxaliplatin may be overcome by CBD
Cannabidiol overcomes oxaliplatin resistance by enhancing autophagy through reduction NOS3 and SOD2
2019: CBD directly targets mitochondria of cancer cells to kill them
Cannabidiol directly targets mitochondria and disturbs calcium homeostasis in acute lymphoblastic leukemia
2004: In cells and in mice, CBD produced significant antitumor activity
Antitumor effects of cannabidiol, a nonpsychoactive cannabinoid, on human glioma cell lines
---

Research on Cannabinoids for Cancer by (By Cancer Type)
---
Bladder
Bone
Brain
Breast
Colorectal
Eye
Head, Neck & Throat
Gynecological
Kidney
Leukemia (Blood)
Liver
Lung
Melanoma (Skin)
Neuroendocrine
Oral
2022: In oral & pancreatic cancer cells, the synthetic cannabis WIN 55,212–2 inhibited tumor proliferation & induced cell death, with a stronger effect on the cancer stem cells, via a pathway other than CB1 or CB2
Synthetic cannabinoid WIN 55,212–2 inhibits growth and induces cell death of oral and pancreatic stem-like/poorly differentiated tumor cells
2021: Cannabinoids for oral cancers
Effects of tetrahydrocannabinols on human oral cancer cell proliferation, apoptosis, autophagy, oxidative stress, and DNA damage
2021: In mice with oral ulcers (a common side effect of radiation therapy for cancer with few treatments), CBD accelerated healing & lessened inflammation partially via the regulation of genetic transcription
CBD Promotes Oral Ulcer Healing via Inhibiting CMPK2-Mediated Inflammasome
Ovarian
Pancreatic
Pediatric
Pets
Prostate
Stomach/Gastric
---

Research on Cannabis, Cancer & the Endocannabinoid System
2022: In cancer patients, cannabis helped to significantly improve quality of life, cognitive functioning & breathing – but worse on sleep than patients with no cannabis
Symptom Management and Quality of Life of Palliative Cancer Patients After Being Administered with Thai Medicinal Cannabis
2022: This study looks at how THC causes chemotherapy to work less well because it impedes the treatment's immune checkpoint blockades via the CB2 receptor
Cannabis suppresses antitumor immunity by inhibiting JAK/STAT signaling in T cells through CNR2
2022: The Colorado Dept. of Public Health collected their findings about the effects of cannabis on public health
Evidence of Health Effects Associated with Marijuana Use: A Comprehensive Public Health Review
Findings include… Daily use associated with pre-cancerous lesions in airway – but smoking less than a joint a day is not associated with increased lung cancer risk. Moderate evidence for use in males associated with increased risk of testicular cancer.
2022: Epidemiology study linking delta-8 THC use to an increase in a number of types of cancer
Epidemiology of Δ8THC-Related Carcinogenesis in USA: A Panel Regression and Causal Inferential Study
2022: Epidemiology study showing cannabis causing increased cancer risk
Geotemporospatial and causal inferential epidemiological overview and survey of USA cannabis, cannabidiol and cannabinoid genotoxicity expressed in cancer incidence 2003-2017: part 1 – continuous bivariate analysis
Though on this one, their data suggests that THC & CBD cause more cancer in a community than tobacco or alcohol. That seems … out there.
2022: As well as more types of cancer
Geotemporospatial and causal inferential epidemiological overview and survey of USA cannabis, cannabidiol and cannabinoid genotoxicity expressed in cancer incidence 2003-2017: part 2 – categorical bivariate analysis and attributable fractions
2022: And cancer effects that suggest harms to the genes of prenatal infants
Geotemporospatial and causal inferential epidemiological overview and survey of USA cannabis, cannabidiol and cannabinoid genotoxicity expressed in cancer incidence 2003-2017: part 3 – spatiotemporal, multivariable and causal inferential pathfinding and exploratory analyses of prostate and ovarian cancers
2022: A letter to the editor pushing back from all of the epidemiological data from above linking cannabis to cancer rates & they level the charge of "ecological fallacy"
Letter to the editor on "Geotemporospatial and causal inferential epidemiological overview and survey of USA cannabis, cannabidiol and cannabinoid genotoxicity expressed in cancer incidence 2003-2017, parts 1-3"
2021: This review looks at the endocannabinoid's involvement with cancer & the tumor microenvironment
Endocannabinoid System and Tumour Microenvironment: New Intertwined Connections for Anticancer Approaches
2021: A meta-analysis of cannabis for chronic pain & pain from cancer
Medical cannabis or cannabinoids for chronic non-cancer and cancer-related pain: a systematic review and meta-analysis of randomised clinical trials
2021: An article on why oncologists are excited about medical cannabis
Is medical cannabis a new discovery for oncology research?
2021: A review of the cannabinoids as anticancer drugs & neuroprotective agents
Cannabinoids as anticancer and neuroprotective drugs: Structural insights and pharmacological interactions—A review
2021: This review looks at using cannabinoids for ameliorating the neurotoxicity of chemotherapy for cancer treatment
Cannabinoids: an Effective Treatment for Chemotherapy-Induced Peripheral Neurotoxicity
2021: Cannabinoids & their receptors for cancer treatment
The strengths and limits of cannabinoids and their receptors in cancer: Insights into the role of tumorigenesis-underlying mechanisms and therapeutic aspects
2021: Phytocannabinoids for various aspects of cancer-fighting
Cancer Initiation, Progression and Resistance: Are Phytocannabinoids from Cannabis sativa L. Promising Compounds
2021: This review looks at the endocannabinoid system & cancer as well as how targeting the CB1 & CB2 receptors may be a potential therapy
The Interplay between the Immune and the Endocannabinoid Systems in Cancer
2021: A review of how the cannabinoids fight cancer
Molecular Mechanism of Cannabinoids in Cancer Progression
2021: A review of targeting the endocannabinoid system for pediatric cancers
The Role of Cannabinoids as Anticancer Agents in Pediatric Oncology
2021: In humans with cancer, even short-term treatment with medical cannabis produces beneficial effects
Short-Term Medical Cannabis Treatment Regimens Produced Beneficial Effects among Palliative Cancer Patients
2020: A review of the history of using cannabis for cancer & an explanation of the biochemistry of why that makes sense
Cannabis and its Constituents for Cancer: History, Biogenesis, Chemistry and Pharmacological Activities
2020: A review of how much the endocannabinoid system is involved in the biology of cancer
The Interplay between Cancer Biology and the Endocannabinoid System-Significance for Cancer Risk, Prognosis and Response to Treatment
2020: Meta-review of anticancer properties of the components of the cannabis plant
Anti-Cancer Potential of Cannabinoids, Terpenes, and Flavonoids Present in Cannabis
2020: A very positive review of the latest findings of using cannabinoids for the symptoms of cancer – includes 96 studies
A systematic review of evidence for cannabis and cannabinoids as adjuvant therapy in palliative and supportive oncology care
2020: Using cannabis for cancer treatment & bone marrow transplantations
The Highs and Lows of Cannabis in Cancer Treatment and Bone Marrow Transplantation
2020: This article reviews 48 clinical trials involving cannabis & cancer treatment
High Expectations: The Landscape of Clinical Trials of Medical Marijuana in Oncology
2020: A review of targeting the endocannabinoid system for cancer
The Endocannabinoid System: A Target for Cancer Treatment
2020: A review finds that cannabinoids not only help with the symptoms of cancer but show promise in their antitumor effects
The role of cannabinoids in the treatment of cancer
2020: In late-stage cancer patients undergoing immunotherapy, medical cannabis was correlated with worse clinical outcomes (a significant decrease in time to tumor progression & decreased overall survival)
Cannabis Consumption Used by Cancer Patients during Immunotherapy Correlates with Poor Clinical Outcome
2020: In cancer cells, a FAAH inhibitor prevented them from shedding certain proteins that led to an enhancement of antitumor immunity
The fatty-acid amide hydrolase inhibitor URB597 inhibits MICA/B shedding
2020: In cancer cells, CBN inhibited their proliferation, arrested their cell cycle and increased their apoptosis (regulated cellular suicide)
Cannabinol inhibits proliferation and induces cell cycle arrest and apoptosis in glioblastoma, hepatocellular carcinoma and breast cancer cells
2020: This roundup of research showcases several articles on the use of cannabinoids in cancer and pain treatment
Editorial: The Canonical and Non-Canonical Endocannabinoid System as a Target in Cancer and Acute and Chronic Pain
2020: A study concluded that medical cannabis "improved oncology patients' [pain] scores despite opioid dose reductions and should be considered a viable adjuvant therapy for palliative management"
The Efficacy of Medical Marijuana in the Treatment of Cancer-Related Pain
2019: Targeting the ECS for cancer pain
Cannabinoids: a new approach for pain control?
2019: Review of cannabinoids for cancer treatment & chemotherapy management
Emerging role of cannabinoids and synthetic cannabinoid receptor 1/cannabinoid receptor 2 receptor agonists in cancer treatment and chemotherapy-associated cancer management
2019: In humans, cannabis use reduced cancer risk in patients with Crohn's disease – but increased other negatives
In-hospital outcomes of inflammatory bowel disease in cannabis users: a nationwide propensity-matched analysis in the United States
"We found a lower frequency of colorectal cancer, parenteral nutrition, anemia but a higher occurrences of active fistulizing disease or intraabdominal abscess formation, lower GI hemorrhage and hypovolemia in the CD cohort with cannabis usage."
2019: A focus group study on the questions of cancer survivors about medical cannabis
Exploring cancer survivors' attitudes, perceptions, and concerns about using medical cannabis for symptom and side effect management: A qualitative focus group study
2019: The use of electrical stimulation to decrease pain from cancer seems to involve the endocannabinoid system via CB1 and AEA levels
Investigation of the Involvement of the Endocannabinoid System in TENS-induced Antinociception
2019: A study found that "the addition of [medical cannabis] to standard oncology care in patients with [advanced cancer] was well-tolerated and may lead to improved pain control and lower opioid requirements."
A randomized trial of medical cannabis (MC) in patients with advanced cancer (AC) to assess impact on opioid use and cancer-related symptoms
2019: Omega-3 fatty acids and their endocannabinoid derivatives may have anti-cancer effects
Anticancer effects of n-3 EPA and DHA and their endocannabinoid derivatives on breast cancer cell growth and invasion
2019: A flavonoid of the cannabis plant may have anti-cancer properties
Flavonoid Derivative of Cannabis Demonstrates Therapeutic Potential in Preclinical Models of Metastatic Pancreatic Cancer
2019: A CB2 receptor agonist reduces growth of brain cancer cells
A Novel Highly Selective Cannabinoid CB2 Agonist Reduces in Vitro Growth and TGF-beta Release of Human Glial Cell Tumors
2019: Atypical cannabinoids represent an intriguing research area for cancer
Antitumor Activity of Abnormal Cannabidiol and Its Analog O-1602 in Taxol-Resistant Preclinical Models of Breast Cancer
2019: Selective cultivation might have led to certain terpene profiles evolving to match and enhance the efficacy of the cannabinoid profiles
Terpenoids and Phytocannabinoids Co-Produced in Cannabis Sativa Strains Show Specific Interaction for Cell Cytotoxic Activity
2019: A test of 12 cannabis extracts on 12 cancer lines reveal the complexity of cannabinoids & cancer
The heterogeneity and complexity of Cannabis extracts as antitumor agents
2019: In humans, researchers used Minnesota patient's self-reported scores to find the help of cannabis for cancer symptoms
Impact of Medical Cannabis on Patient-Reported Symptoms for Patients With Cancer Enrolled in Minnesota's Medical Cannabis Program
2017: In cancer tissue, cannabis extracts reduced gene expression and cancer metastasis
Standardized Cannabis sativa extract attenuates tau and stathmin gene expression in the melanoma cell line
2007: Medical cannabis did not interfere with anticancer drugs
Medicinal cannabis does not influence the clinical pharmacokinetics of irinotecan and docetaxel
2006: In humans, first clinical study of antitumor effects of THC found increased survival and slowed tumor growth
A pilot clinical study of Delta9-tetrahydrocannabinol in patients with recurrent glioblastoma multiforme
1975: First cancer study: 36% increase in survival time (study buried by bureaucrats) Antineoplastic activity of cannabinoids.
in J Natl Cancer Inst by Munson & Carchman of Med College of Virginia
---

Cannabis for Side Effects from Chemotherapy & Radiation
2022: In a mouse model of pain from chemotherapy, PEA helped with the pain as well as the mood disorders
The Beneficial Effects of Ultramicronized Palmitoylethanolamide in the Management of Neuropathic Pain and Associated Mood Disorders Induced by Paclitaxel in Mice
2022: In a rat model of chemotherapy treatment, cannabis extract increased body weight & normal diet intake as well as decreasing oxidative stress & inflammation
Protective Effects of Cannabis sativa on chemotherapy-induced nausea in a rat: Involvement of CB1 receptors
2022: In a tissue study, PEA protects heart cells from the toxicity & inflammation of anti-cancer treatments
The analgesic compound palmitoylethanolamide reduces inflammation in human cardiomyocytes and vascular endothelial cells exposed to doxorubicin and anti-HER2 monoclonal antibody through PPAR-α and NLRP3-related pathways
2022: In a cancer patient, after years of nabilone (synthetic THC) to manage her pain, increasing the dosage during her chemotherapy treatments led to cannabinoid hyperemesis syndrome & cyclical vomiting
A case report on cannabinoid hyperemesis syndrome in palliative care: how good intentions can go wrong
2022: In 83 cancer patients, cannabis helped them with pain, nausea, appetitive improvement & reduced anxiety
Cannabis for Symptom Clusters in Patients with Advanced Illness: What Is the Evidence?
2022: For cancer patients, cannabis helped them with pain & to use fewer opioids
Experience With Medical Marijuana for Cancer Patients in the Palliative Setting
2021: In humans with cancer experiencing poor appetite as well as diminished taste & smell, 2.5 mg of THC made their food taste better, increased the calories consumer & increased sleep quality & relaxation
Delta-9-tetrahydrocannabinol may palliate altered chemosensory perception in cancer patients: results of a randomized, double-blind, placebo-controlled pilot trial
2021: In rats getting chemotherapy, anandamide helped to protect against the neuropathic pain
Protective effects of anandamide against cisplatin-induced peripheral neuropathy in rats
2020: In mice being treated with the chemotherapy drug paclitaxel, their 2-AG levels drop. So supplementation of 2-AG seems to help with the neuropathic pain caused by the drug
Peripheral deficiency and antiallodynic effects of 2-arachidonoyl glycerol in a mouse model of paclitaxel-induced neuropathic pain
2020: In rats exposed to the chemotherapeutic agent bleomycin, CB2 activation protected the heart against inflammation & scarring (fibrosis)
Effects of cannabinoid receptor 2 synthetic agonist, AM1241, on bleomycin induced pulmonary fibrosis
2020: A review of the literature suggests that cannabis helps with the anxiety & nausea of radiation therapy – but more trials are needed
Cannabis and Radiation Therapy: A Scoping Review of Human Clinical Trials
2020: A review of oral cannabinoids for the nausea of chemotherapy
Oral cannabinoid for the prophylaxis of chemotherapy-induced nausea and vomiting—a systematic review and meta-analysis
2020: A pilot study in using Sativex for cancer patients with uncontrolled pain
Pilot Clinical and Pharmacokinetic Study of Δ9-Tetrahydrocannabinol and Cannabidiol Oro-Buccal Spray in Advanced Cancer with Uncontrolled Pain
2020: This survey by oncologists suggest that cannabis is both efficacious & cost-effective for the nausea, anxiety & pain of cancer
The Financial and Psychosocial Impact of Medicinal Cannabis
2019: A combination of cannabinoids and opiates may reduce chemotherapy-induced neuropathy
Targeting Cannabinoid 1 and Delta Opioid Receptor Heteromers Alleviates Chemotherapy-Induced Neuropathic Pain
2019: Cancer-related anorexia was improved by oral cannabis in a small study
The Effects of Dosage-Controlled Cannabis Capsules on Cancer-Related Cachexia and Anorexia Syndrome in Advanced Cancer Patients: Pilot Study
---
Research Surveys of Cancer Patients