Find balance and see exactly what you've been missing!
Discover the Science of Nature with Cannabiva™ CBD
Scientifically formulated Cannabiva™ CBD provides the perfect balance of vital phytocannabinoids for unrivaled entourage benefits vs other CBD brands. Cannabiva CBD is a pharmacologically active natural medicine, so it can bind to special receptor sites in the body and interact with them in a way that promotes physical health benefits.
True Full Spectrum CBD & Broad Spectrum CBD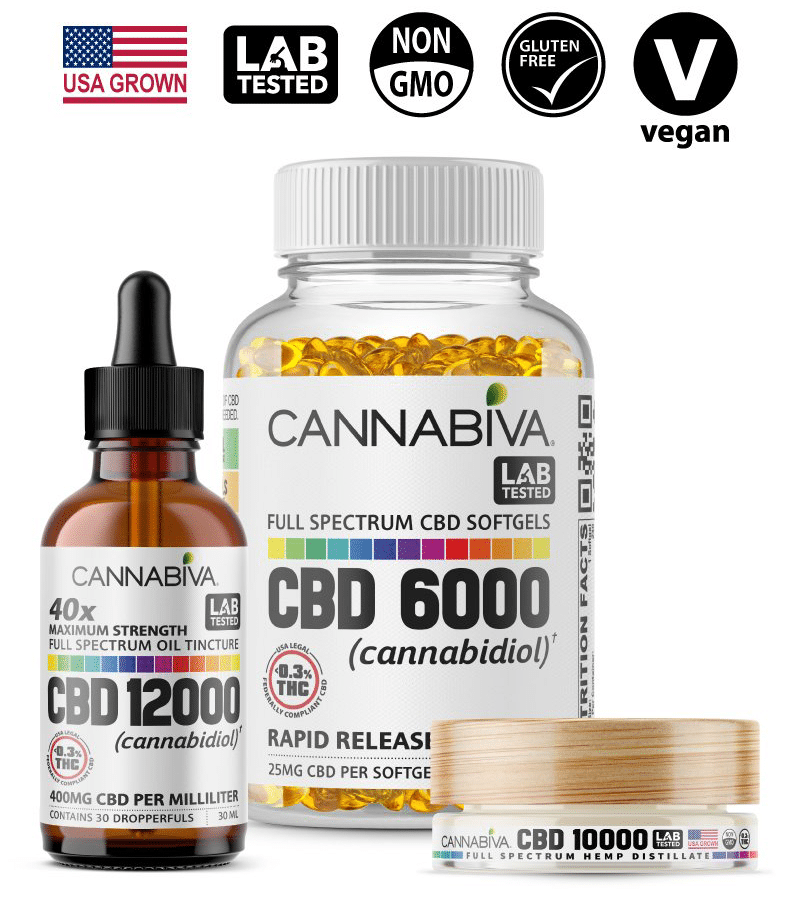 True Full Spectrum CBD from Cannabiva provides essential cannabinoids, like Cannabinol (CBN), Cannabigerol (CBG), Cannabichromene (CBC) and THC (up to 0.3% by volume) in every dose. More than 25 authentic, cannabis-derived terpenes give Cannabiva CBD its rich, classic cannabis flavor. Broad Spectrum Cannabiva is a true multi-spectrum CBD that's similar to our full spectrum CBD in every way except one: our Broad Spectrum CBD has no THC (0.0% by volume). Cannabiva brand CBD products are available in oil tinctures, softgels, gummies, concentrates, balms, salves, pet CBD and more!
Non-GMO, Organically Grown, triple-tested
Cannabiva is triple tested to guarantee that it's always 100% free from pesticides, harsh chemicals, and heavy metals. No additives, synthetic ingredients, or artificial preservatives are used ever. Scan the QR code on your Cannabiva product label for instant access to its independent lab test results.
Product Categories: Full Spectrum CBD, Broad Spectrum CBD, CBD Tinctures, CBD Gummies, CBD Concentrate, CBD Balm & CBD Salve, CBD Vape, Pet CBD, Equine CBD, Veterinary CBD