The possibility that a woman could have painless labor became an idée fixe of H. L. ("Doc") Humes, a literary wunderkind and MIT science prodigy who developed some intriguing theories about cannabis. When his wife was giving birth at their home on July 4, 1977, they tried an experiment involving marijuana, breathing exercises, and massage. Humes gave her some pot to inhale just before each contraction and this helped her immensely.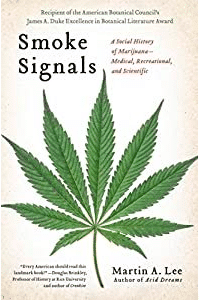 Marijuana is "among the most forgiving medicines we know," said Humes, who described cannabis as a "neurological laxative" that "acts to surface anxiety which the user holds within himself." Doc touted the weed as the best remedy for stress, "the necessary medicine for the nation's anxiety-tension problem."
"America is so sick," he declared, "and cannabis is the specific medicine for the disease that afflicts us."
Chronic "anxiety-tension," Humes explained, "is a state of general blockage that shows up most obviously at an individual's 'weakest link,' so it can have a wide variety of physical and emotional symptoms, as well as being generally debilitating … Most of the common elements from which people suffer are really symptoms of anxiety-tension, including headache, backache, insomnia, fatigue, irritability, GI disturbances such as constipation and ulcers, overweight, arthritis, and so on. Anxiety-tension has also been very clearly implicated in more deadly disorders such as high blood pressure, heart disease, cancer proneness, and premature aging … Depression is frequently a symptom of anxiety-tension."
Ganja's biphasic qualities allows smokers to "equilibriate" the nervous system, according to Humes. Consumed in appropriate quantities, the herb could calm the hyper or invigorate the sluggish. "The medical use of cannabis depends precisely on managing its psychoactive properties," Doc counseled. "In heavy dosage, it functions like a hypnotic. In a light dosage it functions like an illuminant."
Humes saw early on that the widespread "recreational use of cannabis is also a form of self-medication," even if most marijuana smokers did not acknowledge this to themselves. He lamented the fact that hundreds of thousands of young people are arrested each year for using the most efficacious and least harmful medication available to cope with the stress of living in the modern world.
Source: H. L. Humes, "Notes on Painless Detoxification from Narcotics Addiction," unpublished manuscript.
---
Excerpted from Smoke Signals: A Social History of Marijuana—Medical, Recreational and Scientific. This article may not be reproduced in any form without approval from the source. Martin A. Lee is the director of Project CBD. He's authored and edited several books, including Smoke Signals, Acid Dreams, and The Essential Guide to CBD.
---