CBD is the predominant cannabinoid in hemp—cannabis grown for fiber or growing in the wild. Traditionally, plants grown for hashish in the Kush contained THC and CBD in equal measure. But in recent times in the United States and elsewhere, cannabis genetics changed to accommodate a grassroots demand for high THC content. Consequently, CBD almost disappeared from the grassroots gene pool in Northern California, America's cannabis breadbasket.
Two broad categories of CBD-rich cannabis strains have emerged since the serendipitous rediscovery of whole plant CBD by Northern California growers in late 2009. There are a handful of CBD-dominant strains with little THC (just the opposite of what's readily available on the recreational market and the medical marijuana gray market). And there are also more balanced cannabis strains with roughly equal—or significant—amounts of both CBD and THC.
Tested several times by various analytical labs, the initial CBD-rich strains (such as Harlequin, Sour Tsunami, Jamaican Lion, and Omrita Rx) ranged from 8 to 10% CBD and 5.5 to 7% THC—about a 3:2 CBD:THC ratio. Yet anecdotal evidence suggested differing effects conferred by these strains. It seems likely that these differences lay in their respective terpenoid profiles.
Another strain found in the early going, Women's Collective Stinky Purple, registered ten times the amount of CBD than THC. A few more strains with a similar CBD-dominant phenotype would soon be identified and cloned for distribution. These CBD-dominant strains (with names like Cannatonic, ACDC, Charlotte's Web, and Valentine X) are being grown largely to harvest cannabidiol for making oil extracts.
It appears that some of these CBD-dominant strains have different names but are actually the same plant. The LA-based Werc Shop analyzed the terpene content of two CBD-dominant strains, "Oracle" and "ACDC," and found that they were identical.
"A terpene analysis is like a fingerprint," explains Werc Shop's president Jeff Raber. "It can tell you if it's the same strain with different names. We can see strains going by different names that have the same terpene profile. We now know the strains are identical."
Same strain, different name? The Werc Shop's Analysis
Oracle and ACDC are 20:1 CBD:THC strains and have identical terpene profiles, which mean they are the same plant .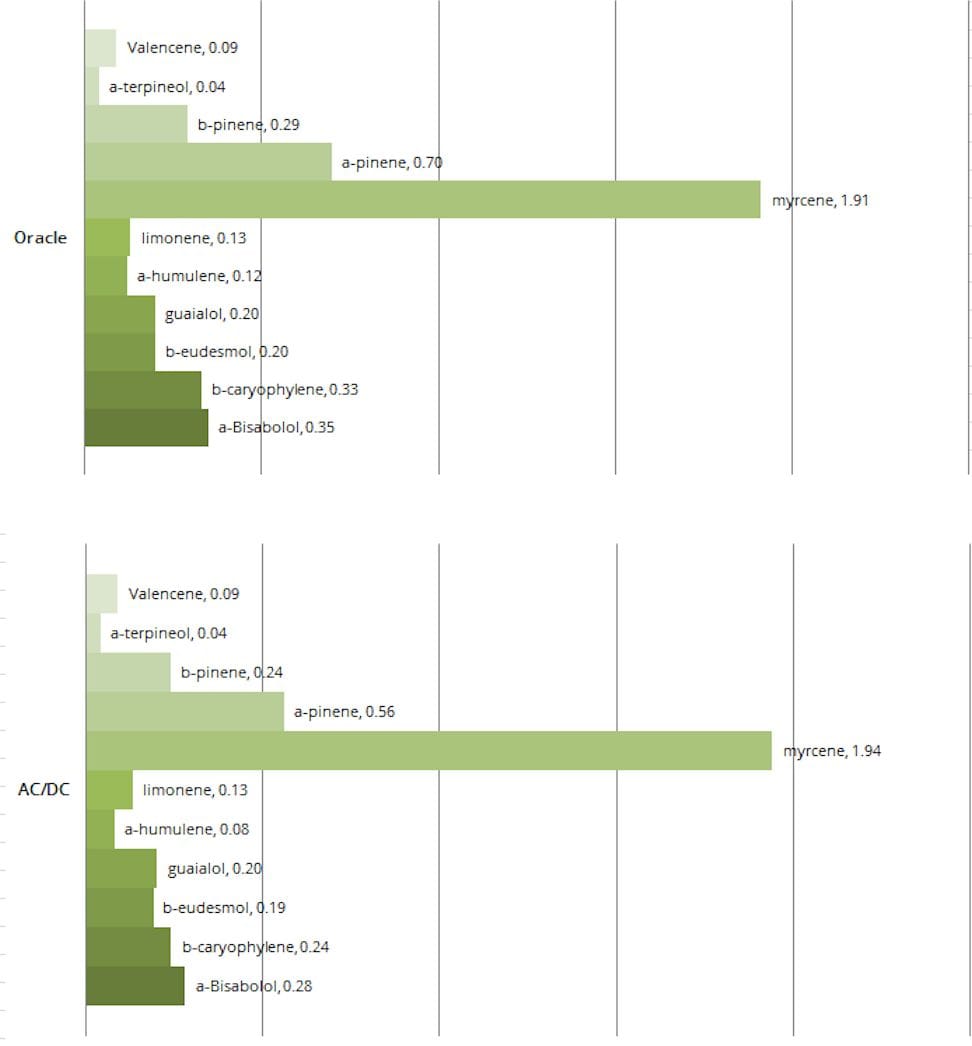 ---
Martin A. Lee is the director of Project CBD. He's authored and edited several books, including Smoke Signals, Acid Dreams, and The Essential Guide to CBD. © Copyright, Project CBD. May not be reprinted without permission.
---