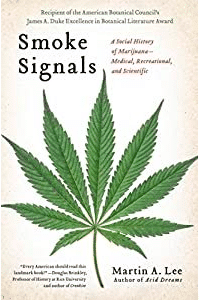 The bestselling author of Acid Dreams tells the great American cannabis story—a panoramic, character-driven saga that examines the medical, recreational, scientific, and economic dimensions of the world's most controversial plant. Martin A. Lee traces the dramatic social history of marijuana from its origins to its emergence in the 1960s as a defining force in a culture war that has never ceased. Lee describes how the illicit marijuana subculture overcame government opposition and morphed into a dynamic, multibillion-dollar industry. Lee, an award-winning investigative journalist, draws attention to underreported scientific breakthroughs that are reshaping the therapeutic landscape. By mining the plant's rich pharmacopoeia, medical researchers have developed promising treatments for cancer, heart disease, Alzheimer's, diabetes, chronic pain, and many other conditions that are beyond the reach of conventional cures. Winner of the American Botanical Council's James A. Duke Award for Excellence in Botanical Literature.
Scroll down for a list of excerpts.
---
Critical Praise for Smoke Signals
"Smoke Signals is an important, serious-minded look at the role cannabis has played in American history. He tackles the hard issues of marijuana prohibition with keen insight and righteous indignation. I agree with Lee's central premise that our marijuana laws are draconian. Every American should read this landmark book!" –Douglas Brinkley, Professor of History at Rice University and author of Cronkite
"A ripping read, thoroughly researched, Smoke Signals will help inform the current debate and hopefully hasten the demise of prohibition." —David Bronner, CEO, Dr. Bronner's Magic Soaps
"In this accessible and well-researched analysis, Lee offers a cultural reckoning of cannabis in its many incarnations, spanning from its first recorded utilization in 2700 B.C.E. to the present . . . a compelling read and an excellent source of information on the topic." —Publishers Weekly
"Smoking a doobie isn't the worst thing a person could do…and Lee backs that thought up with social history aplenty, ranging from neolithic experiments down to the Kerouacian consumers of the Beat Era." —Kirkus Reviews
"Hallelujah and glory be to Smoke Signals, Martin Lee's bodacious new book…[Lee] chronicles everything and everyone worth chronicling in the annals of marijuana." –Jonah Raskin, High Times
"[E]xuberant, richly researched." –Boston Globe
"High but not dry . . . a lively and informative book." —Larry Gabriel, Detroit Metro Times
"[T]he best, most comprehensive account of the American marijuana movement(s) to date . . . Smoke Signals is a must read for anyone who wants to understand the contemporary marijuana movement." –Phil Smith, Drug War Chronicle
"This is a brilliant book . . . Smoke Signals is destined to be a classic." –Mikki Norris, West Coast Leaf
"As Martin A. Lee shows in Smoke Signals, his engaging and illuminating new history, marijuana's contraband status is a result of historical accident, racial prejudice, xenophobia, loads of cultural baggage, and an astonishing amount of ignorance." – Jacob Sullum, Reason
"Lee's new book is the precise educational tool that our country currently needs . . . Smoke Signals should be required reading in every high school history class." –David J. Brown, author, Mavericks of Medicine
"[A] clearheaded survey that stretches from 2700 B.C. to the Obama administration" –James Hughes, Slate
"[A] delightful surprise . . . impossible to put down" –Anna Diaz, Real Weedist
"Lee . . . imagines a bright, legal, lucrative future for weed." —Business Week
"[A] well-reasoned, entertainingly written, and passionate examination of the social and culture war that surrounds the drug." —Booklist
"The definitive history of marijuana [and] the definitive book on cannabis science for the general reader." –Jonathan Taylor, Erowid
"This book is so good, so important, and so necessary that I am stating right up front that if you never read anything ever again about the war on drugs . . . this is the one book that you must read. It is the most important book ever written about marijuana." –Laurence M. Vance, LewRockwell.com
Book Excerpts & Award
Excerpted from "Smoke Signals: A Social History of Marijuana – Medical, Recreational, and Scientific" by Martin A. Lee.